The West Coast of Pangandaran in West Java Province, Indonesia
---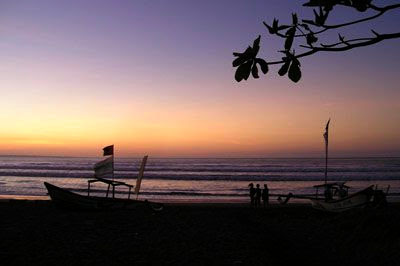 Several beaches are available for tourists to visit in Pangandaran Regency. One of them is called the West Coast of Pangandaran. As the name suggests, it resides in the west part of the region and famous for its big waves. Unlike the east coast, this one features a wild current so it is suitable for a challenging activity like surfing. Other famous activities to do on the site are jet skiing, banana boat riding, and visiting locals' fish auction (a place where local fishermen sell their products to either the villagers or tourists).
The Nuance
Unlike other beaches, the west coast doesn't feature coral reefs so it is safe for surfing and swimming. As mentioned before, Pangandaran West Coast features big and challenging waves. Knowing the fact, no one is allowed to get careless when swimming or playing in the water. Only experienced surfers or professionals can enjoy the activity, actually. Despite the fact, some kids are seen in the shoreline carrying their small surf board. They are the sons of the locals who have been playing on the beach for years (with unquestioned skills and experiences).
Exploring Pangandaran West Coast
The most popular activity to do in Pangandaran West Coast is definitely surfing. Does it mean only professionals can enjoy it? Have no worries. The locals have provided a special surfing lesson to tourists. Not to mention several stands are available where tourists can rent a surfboard or other required equipment. Visitors can even spend more than one day to learn how to surf. When it comes to accommodation, they can simply reach the nearby hotel called Malabar. The fact is that the hotel resides only across the beach!
Apart from surfing, people come to Pangandaran West Coast for enjoying the sunset. In the afternoon, the sun might set beautifully featuring a formation of coconut trees, wooden chairs, mesmerizing beach sand, and breezy wind. It is indeed quite romantic! As for the tip, visitors should not forget to carry a camera so they can capture such beautiful moment and show it to either their friends or families. Also, don't forget to try fresh coconut drink when witnessing the sunset.
What is more? Many alternatives are available for tourists to enjoy. For example, families with kids can play in the sand and conduct beach walking. Next, they can spend some money to ride a local horse and get around the beach for several minutes. For a cheaper price, they can come during working days. Another fun activity to enjoy is fishing and it can be done in any spots of the beach. The other things to do are playing beach soccer and building a sand castle.
Nearby Attractions
White Sand Beach
Karang Nini Beach
Lembah Putri Beach
Citumang Tourism
How to Get There
It only takes about 30 minutes to reach Pangandaran West Coast and the distance is 9 km. Travelers only need to take Pamugaran Bulak Laut Street, which is considered the fastest. For a more comfortable trip, they can simply rent a car or ride a private vehicle.
Where to Stay
Century Hotel
Krishna Beach Hotel
Bumi Nusantara Hotel
Malabar Hotel