Cijulang Green Canyon in Pangandaran City, Indonesia
---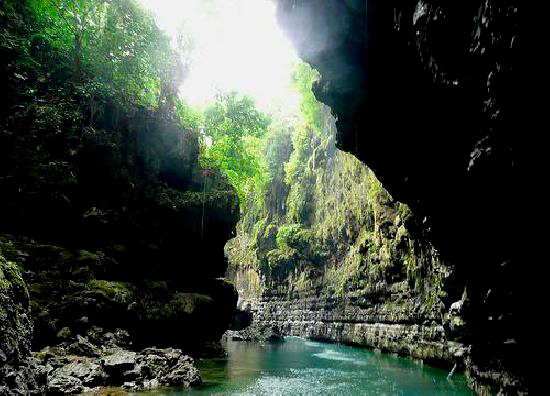 In Pangandaran City, some tourists might have heard about Citumang Green Canyon. Well, another reference is available for them to visit called Cijulang Green Canyon. The location is in Kertayasa Village and it belongs to Cijulang Sub-District. The one who popularized the site was the French and it was called Cukang Taneuh back then. Later, the locals call it Green Canyon which might represent the majestic nuance of America's Grand Canyon. So, what can tourists do in the location? The most common one is to ride a boat and explore the river between majestic cliffs.
The Nuance
In term of nuance, it is indeed similar to its sibling (Citumang Green Canyon). A beautiful river flows gently with its clear water. The river is surrounded by cliffs, bushes, and small trees! That means the atmosphere is quite chilling or soothing on the site. Some boats are seen passing crossing the river and they are filled with passengers, as well. More boats even roam the river during weekends as the number of tourists increases too. When it comes to the weather, Cijulang Green Canyon is usually cold but comfortable.
Exploring Cijulang Green Canyon
A vacation to Cijulang Green Canyon gives a memorable experience to everyone. The first charm is related to the lush of nature. A serene nuance of the river would rejuvenate everyone's feeling. That means exploring the river helps them to eradicate stresses and find peace, as well. For a better experience, tourists should try the boat riding. Even though it costs some money, the ride never disappoints people and it usually takes about 45 minutes to explore the river. Also, a boat usually accommodates 5-6 people (including the kids).
Apart from the boat riding, the next fun activity is swimming or body rafting. This is more challenging as tourists are going to explore the river without the boat. Only a life jacket and some primary equipment are used during the adventure. Have no worries. An instructor is always available and he would help everyone to get prepared before getting in the water. When it comes to the equipment, tourists can rent them with a nice price.
In order to enjoy those activities, tourists must reach the start point first. Also, they need to get prepared before going either body rafting or boat riding. Another precaution is that they must know the risk of the activities. Body rafting costs much stamina so people must make sure they come with a good health. Apart from that, bringing more money is quite recommended as they are going to use it to rent equipment, buy foods, and rent a hotel room.
Nearby Attractions
Pangandaran Beach
White Sand Beach
Sutra Cave
Satirah River Tubing
How to Get There
From Pangandaran City, tourists can head directly to Cijulang Sub-District either by local transportation service or private vehicle. The route is Pangandaran-Cimerak Street, actually. For those coming from Bandung or nearby cities, it is better to find a hotel room in Pangandaran first. This helps them to rest before visiting the green canyon.
Where to Stay
Riverside Batukaras
Villa Dahon
Kalaras Cottage Batukaras
Sunrise Resort Batukaras
Javacove Beach Hotel