Batukaras Beach in Cijulang Sub-District, Pangandaran - Indonesia
---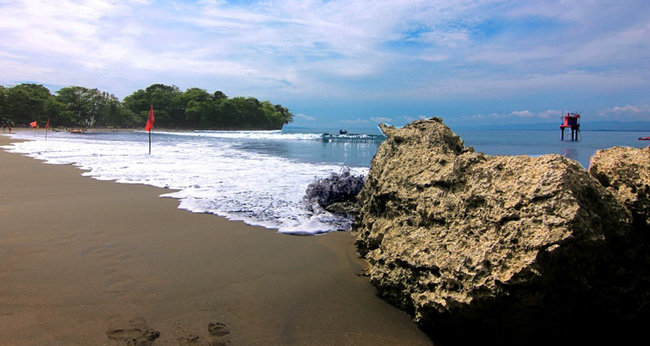 For the next holiday, tourists should consider visiting Pangandaran Regency. Why is that? It is the home of a beautiful beach called Batukaras. The location is in Cijulang Sub-District, Pangandaran Regency part of West Java, Indonesia. It becomes an alternative to Pangandaran Beach, which also shares similar beauty and atmosphere. The exact location is in Batukaras Village (as the name implies) and the route is quite accessible. As for the tourist activities, visitors can enjoy anything like swimming, beach walking, photography, family vacation, and many others. No wonder, the site becomes crowded on weekends when many local families come with their kids.
The Nuance
Located about 30 km from Pangandaran City, Batukaras Beach has several interesting features that tourists can enjoy. For example, it comes with powerful waves and breezy wind. This condition is ephemeral, though. That means the beach's waves become calmer sometimes (which is suitable for swimming). Not to mention the panorama is breathtaking. The next feature is its sloping condition, which appears beautiful from afar. What's next? The blue color of seawater is blue and pristine, which appears soothing and peaceful.
Exploring Batukaras Beach
Tourists have different reasons in visiting Batukaras Beach, Indonesia. For instance, they want to enjoy swimming and playing in the shoreline. Most of them are local families who want to spend a wonderful holiday. Apart from swimming, the next fun activity to do is to ride a boat! Visitors are allowed to rent one and ride it on the sea. One thing, they must do it with the local or experienced person. This helps them avoid getting stranded too far in the sea or losing direction. As for the tip, they can rely on the help of the owner of the boat when enjoying the activity.
The next fun activity to do in Batukaras Beach is surfing. Due to great waves, tourists take advantage of it for surfing. Still, they must come at the right time to get the best waves. Usually, it occurs between May and September. What's next? It is camping. Some spots near to the beach are good to do such kind of activity, after all. Not to mention people can access several facilities like souvenir kiosk, hotels, surfboards rentals, etc.
Another thing to do is photography. Surrounded by majestic panorama, visitors are able to capture lots of beautiful pictures. These include rice terraces, astonishing sunrise, jungle, black sand, etc. All of them become a great background for selfies too. At the end of the adventure, they can visit a nearby village and meet the locals as well. Not to mention they can try some local foods and rest for a while in a villager's house.
Nearby Attractions
Green Canyon Body Rafting
Madasari Beach
Citumang Tourism
How to Get There
From Pangandaran City of Indonesia, travelers should take a local transportation service and head to Cijulang Sub-District. The trip takes 1-2 hours and the distance is 33 km. It can be either faster or later depending on the traffic, though. As for the best route, tourists can take Parigi Raya – Cigugur Street.
Where to Stay
Amazon Bungalow
Java Lagoon Hotel
Sunrise Resort Batu Karas