Legok Jawa Beach in Cimerak Sub-District, Pangandaran - Indonesia
---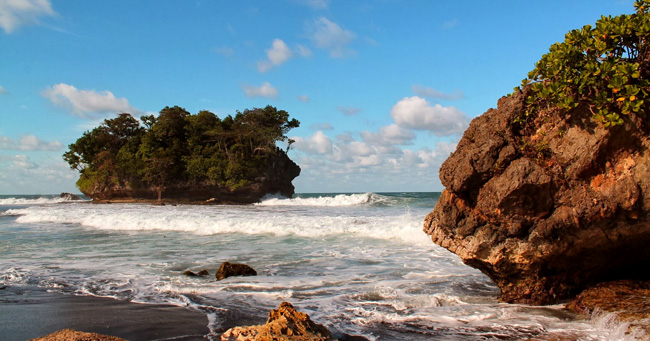 Pangandaran Regency is known for its beaches and other interesting vacation destinations. As for the reference, tourists can visit Legok Jawa Beach in Cimerak Sub-District, Pangandaran Regency part of West Java, Indonesia. Even though it is not as popular as Batukaras and Pangandaran Beach, everyone can do many interesting things on the site. These include a family vacation, photography, reaching the lighthouse, watching a local horse race, and much more. Not to mention the beach is known for its lush and pristine beauty! Some visitors even come to the beach for enjoying the fresh air and breezy wind. This helps them removing stresses, after all.
The Nuance
The most noticeable part of Legok Jawa Beach is its sloping coast. Tourists can see beautiful sand and trees as well around the beach. Not to mention some coral reefs reside majestically in that area. Next, visitors would be rejuvenated by the breezy wind. Even the sound of the splash of the waves is quite peaceful. Tourists can enjoy those features from afar sitting on available huts, too. What's more? A lighthouse resides in that area, on which tourists often take selfies and conduct photography.
Exploring Legok Jawa Beach
Many visitors come to Legok in order to enjoy the nature. They come with either families or friends and spend a memorable holiday in a day. Usually, these people simply walk around the beach and feel its comfy wind. They also witness the splash of the waves, which is considered soothing. Playing water is possible as long as tourists pay attention to their safety. It is because Legok Jawa Beach has strong waves featuring wild wind. That means swimming is not recommended there.
The next charm of Legok Jawa Beach is definitely the lighthouse. Entering and climbing such structure is allowed as long as tourists take care of the environment. From the top of it, they can see breathtaking sea scenery and take some pictures of the nature using their camera. After enjoying such photography activity, they must never forget to watch a local horse race. The thing is they must find out about the schedule of the event as it is not always available. As for the tips, tourists can consult to their tour agency regarding such matter.
What's next? Legok Jawa Beach is also famous for its seafood or marine culinary. Local fishermen have specialties like lobsters and big fishes. They even sell these products near to the beach so tourists can buy them directly. On top of that, they can get cheap prices especially for those who can do some bargains. A good communication skill is required, though. Not to mention they should learn a little bit of the Indonesian Language.
Nearby Attractions
Green Canyon
Karang Tawulan Beach
Madasari Beach
How to Get There
The distance between Pangandaran Regency and Cimerak Sub-District is 46 km. That means tourists might spend about 2 hours to reach the location. As for the faster trip, they can use Cijulang Raya Street from Cijulang Bus Station. As an alternative, the trip takes about 1 hour from Green Canyon by local transportation service.
Where to Stay
Putri Hotel
Bungalow Resort
Shane Josa Resort


Latest News
In the Journal of Nature (a scientific journal of high repute), Mounce et al (2017) revealed, widely that Botanical Gardens around the world have collected at least 105,634 species or equivalent to 30% of all known plant diversity worldwide. However, it was also disclosed that there are an estimated 75% of species that have not been conserved in the tropics. Therefore, the Bogor Botanical Gardens which incidentally located in the tropics and are included in the oldest botanical gardens in Southeast Asia, must be able to answer the conservation challenges…
---
The Bogor Botanical Gardens are the only natural destination in the middle of Bogor city with 87 hectares area. The transportation support capacity is very adequate to access this tourist location. Easy toll access and public transportation access are widely available, which are added values ??for the existence of this tourist location. The existence of the Bogor Botanical Gardens itself cannot be separated from the historical value of the existence of the Dutch in the colonial period, where it is known that the Bogor Botanical Gardens was founded by the…
---
Ranca Upas is one of the tourist destinations in Bandung. Here you can camp while looking at the herd of deer and stunning scenery. Ranca Upas is a tourist spot located in Rancabali District, Bandung Regency, West Java. Ranca Upas is also known as campground, which is a favorite place for nature lovers. At Ranca Upas you can camp in the meadow on a hill of about 1700 meters above sea level. The view in the morning really amazes like being abroad. Moreover, the cool air makes the atmosphere more…
---
Last year, the waterfall or in local language called as 'curug', became a very popular tourist destination for tourists. Its presence in remote areas makes tourists more curious and feels challenged to reach it. Local waterfalls are also crowded because at that time Indonesian citizens were hit by boredom due to the Corona virus pandemic which forced them to cancel their vacation plans. West Java is not only famous for its beautiful beaches and mountains. The area, which is divided into 18 districts and nine cities, also has tourism potential…
---