Amazing Pangandaran Waterpark, Indonesia
---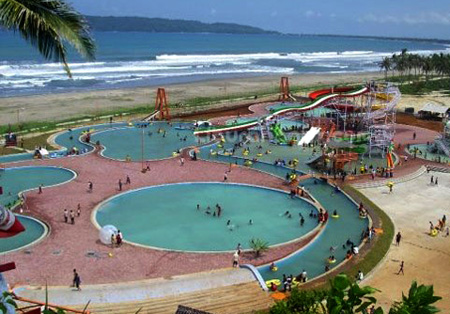 Pangandaran City has become the part of Indonesia Tourism and it owns numerous types of tourist attractions as well. As for the example, it is called Pangandaran Waterpark. As the name suggests, it is the place to play water, swimming, or simply gather with families. The location is near to Lembah Putri Beach and it belongs to Kalipucang Sub-District, Indonesia. Located near to the beach, tourists can explore both the sites during a vacation. During holidays and weekends, the site is quite crowded. That means those who want a more peaceful nuance should come during working days.
The Nuance
The size of the park is about 10 hectares and it provides several pools with their unique features. Some slides are also available on which tourists can use. Kids who can't swim can use the shallow pools and wear a buoyancy tire, which is available for rent. That means parents don't need to worry leaving their kids to play around in the pools. However, they must supervise them when it comes to using the slides. Located near to the beach, a great view of the sea makes the atmosphere feels better. Not to mention several trees also grow lushly, creating a comfortable ambiance.
Exploring Pangandaran Waterpark
As mentioned earlier, the water park features lots of water rides like high rope, water boom, water ball, pools, slides, etc. When it is about the pools, tourists can choose either the shallow or the depth ones (providing the fun both for the kids and parents). One thing, a high and long slide is considered a little bit challenging for kids so they must use it with the supervision of their parents. In this case, renting a safety tire is quite recommended as well. Some plastic boats are even available there for renting!
Apart from using all the types of water rides provided in Pangandaran Waterpark, tourists can enjoy other types of activities as well. For example, it is a family picnic. Local families often come to the location carrying snacks and drinks to enjoy with their family members. Some of them even come to the waterpark only for enjoying the nuance. They often use a camera to collect pictures on the site as well.
All of those activities are available for everyone to enjoy regardless of the age! Not to mention the price of the ticket is affordable despite it becomes pricier during weekends. Knowing this fact, tourists should carry more money as they are going to use it for renting an ATV as well. Later, it is likely visitors are going to eat local specialties, especially seafood seasoned with grilled spices.
Nearby Attractions
White Sand Beach
Pangandaran Beach
Sunrise Beach Hotel
How to Get There
From Pangandaran City of Indonesia, a trip to Pangandaran Waterpark may take about an hour. It is because the distance is about 21 km. When it comes to the best route, tourists can take Banjar- Pangandaran Street. For those coming from Bandung, they might spend a longer trip which is about 5 hours. It is because the distance is 212 km. 

Where to Stay
Suligar Wangi Hotel
Pamordian Hotel
Nyiur Resort Hotel