Saung Muara in Kondangjajar Village, Pangandaran Regency
---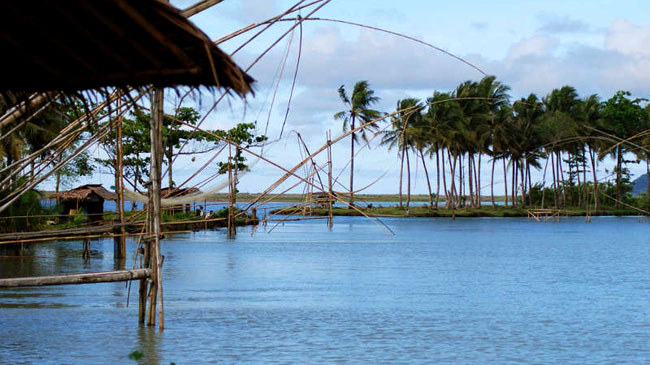 Pangandaran belongs to West Java Province of Indonesia and it has become tourists' next popular destination to spend a holiday. Many attractions are available and one of them resides in Kondangjajar Village, which is called Saung Muara. To be exact, it is located in Pamugaran Street and tourists can access it easily from the main road. So, what is it exactly? Tourists usually come to the site to enjoy numerous fun activities like enjoying the sunset, fishing, and relaxing. Not to mention it becomes an alternative to any natural attractions that reside in Pangandaran.
The Nuance
Once tourists get to Saung Muara, they may witness an unspoiled panorama featuring mangroves, pandanus, and some bushes. In the horizon, tourists might see a splendid beach with its beautiful sand. Sometimes, local fishermen are seen as well with their unique boat. Instead of using modern fish traps, they use Jodang (traditional trapper)! Such object is indeed unique and it often becomes a background for photography as well. Another thing is that several gazebos are also available on which tourists can sit and relax while enjoying the natural panorama.
Exploring Saung Muara
Apart from enjoying the nature, visitors come to Saung Muara for fishing. The presence of natural pond helps them to satisfy such hobby, after all. The thing is that they must carry their own fishing rod as no facilities provide it for them. Even though a number of fishes is low, no one gets upset when spending time for fishing on the site. On the other hand, they take advantage of it to find peace and relax while waiting for the bait to get eaten by the fishes. For the locals, fishing definitely becomes a prime activity to do in Saung Muara. Still, outsiders are allowed to do it as well.
The next fun activity to do in Saung Muara is camping. A particular spot is suitable to build tents and spend the night peacefully, either for one or more days. Before camping, though, tourists must get permission from the management and receive several tips regarding the activity. Have no worries. A tour agent can help them to get such permit. Not to mention tourists do not need to spend any money to conduct camping. What they need is the right equipment, foods, drinks, and a tent! At night, they can enjoy a barbeque or simply eat together with their family.
Fishing can also be done on the beach, actually. The reason is Saung Muara resides near to the shoreline where local fishermen often take a rest before continuing their activity. No wonder, tourists can see several gazebos on the location where they can sit and relax. As for accommodations, a small "warung" or local restaurant is available near to Saung.
Nearby Attractions
Green Canyon Body Rafting
Batu Karas Beach
Citumang Tourist Spot
Madasari Beach
How to Get There
From Pangandaran City, travelers can directly head to Kondangjajar Village. The trip takes about 1 hour as the distance is 27.1 km. They can use Raya Cijulang Street for a faster trip, actually. When it is about transportation, both local services and private vehicles are a good choice.
Where to Stay
Tirta Bahari Hotel
Eunike Surf Cottage
Panireman River Sider