Pangandaran Beaches and Their Charming Beauty, West Java Province - Indonesia
---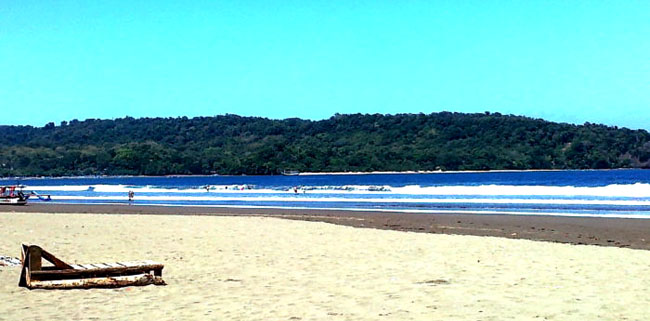 A vacation to West Java provides a wonderful experience for tourists, especially when they are visiting Pangandaran Regency. A beautiful beach lies in that region, which has the same name with it. Due to its charming beauty, Pangandaran Beach is chosen as the primary tourist attraction and has become a good destination for spending a family vacation, holidays, weekends, and other occasions. People come to the beach to enjoy some fun activities like swimming, beach walking, photography, and even riding a local boat. Here are some interesting facts regarding the beach so tourists can use them as a reference prior to visiting the location.
The Nuance
One thing, what is meant by Pangandaran Beach is all references of beaches tourists can visit in the region. Most of them share similar characteristics as well. Once tourists arrive at those beaches, they would see the unspoiled or natural scenery. The sand is clean and soft so it is suitable for beach walking (even without footwear). Near to the shoreline, a big coral reef resides majestically. Some bushes and small trees grow on it, as well. In the sea, small and safe waves are seen featuring crystal blue sea water! Not to mention the wind feels breezy and the atmosphere is quite comfortable. Sometimes, several traditional boats (which belongs to fishermen) passing by and they often offer a short ride to visitors.
Exploring Pangandaran Beaches
The first reference that people should know called Penanjung Beach. It is famous for its white sand and shallow shoreline. Some people come to the beach and enjoy water sports like snorkeling and swimming, too! Thanks to the good visibility and mesmerizing underwater beauty. The next option is Batu Hiu Beach, which means the beach of the sharks. That doesn't mean the beach becomes the home of the sharks but it has a coral reef that represents the shape of such sea creature.
The next beach is called Batu Karas, which is located near to Cijulang. The unique charm of the beach is the presence of good waves which are suitable for surfing. In fact, it is considered the best choice for those who want to enjoy such activity. Apart from surfing, it is suitable for other fun activities like boat and banana boat riding. As an alternative, tourists can visit other beach called Lembah Putri. It is a good choice for those who want to do photography and enjoy the peaceful atmosphere.
What is next? Karang Nini also becomes the part of the best beaches in Pangandaran. It is famous for the local legend regarding a sacred coral reef which has the shape of an old lady. The locals say it was a woman who is waiting for her lover for decades (but turns out he never comes back). Krapyak Beach is another choice for those who want to enjoy a beach vacation in Pangandaran. This one is famous for its secluded location and often becomes a destination for relaxation.
Nearby Attractions
White Sand Beach
Karang Nini Beach
Lembah Putri Beach
Pangandaran Waterpark
How to Get There
From Pangandaran City, travelers should drive about 30 minutes to 1 hour and head to nearby beaches. They can even visit all of those beaches if it is necessary! The best route is Pangandaran Raya Street, actually.
Where to Stay
Bamboo House Hotel
Menara Laut Hotel
Nyiur Resort Hotel
Nyiur Indah Hotel
Arnawa Hotel
Grand Tirta Hotel


Latest News
In the Journal of Nature (a scientific journal of high repute), Mounce et al (2017) revealed, widely that Botanical Gardens around the world have collected at least 105,634 species or equivalent to 30% of all known plant diversity worldwide. However, it was also disclosed that there are an estimated 75% of species that have not been conserved in the tropics. Therefore, the Bogor Botanical Gardens which incidentally located in the tropics and are included in the oldest botanical gardens in Southeast Asia, must be able to answer the conservation challenges…
---
The Bogor Botanical Gardens are the only natural destination in the middle of Bogor city with 87 hectares area. The transportation support capacity is very adequate to access this tourist location. Easy toll access and public transportation access are widely available, which are added values ??for the existence of this tourist location. The existence of the Bogor Botanical Gardens itself cannot be separated from the historical value of the existence of the Dutch in the colonial period, where it is known that the Bogor Botanical Gardens was founded by the…
---
Ranca Upas is one of the tourist destinations in Bandung. Here you can camp while looking at the herd of deer and stunning scenery. Ranca Upas is a tourist spot located in Rancabali District, Bandung Regency, West Java. Ranca Upas is also known as campground, which is a favorite place for nature lovers. At Ranca Upas you can camp in the meadow on a hill of about 1700 meters above sea level. The view in the morning really amazes like being abroad. Moreover, the cool air makes the atmosphere more…
---
Last year, the waterfall or in local language called as 'curug', became a very popular tourist destination for tourists. Its presence in remote areas makes tourists more curious and feels challenged to reach it. Local waterfalls are also crowded because at that time Indonesian citizens were hit by boredom due to the Corona virus pandemic which forced them to cancel their vacation plans. West Java is not only famous for its beautiful beaches and mountains. The area, which is divided into 18 districts and nine cities, also has tourism potential…
---